Drive In Movie Screen Rental
Rent Your Drive In Movie Theater Equipment from Ohio's Leading Outdoor Movie Event Provider. Pop Up Drive In Movie Screen Rental, Projectors, and FM Transmitters to Recreate the Drive In
Professional delivery to
Norton, OH
and surrounding areas. Please submit a quote or contact us to be sure we service your area.
Plan an Unforgettable Drive-In Movie Event
Check out our Drive-In Intro Video
Our goal as your Pop Up Drive In movie night equipment connoisseurs is to make booking and hosting your Drive-In theater a breeze.
One call – that's all it takes to reserve you date. We can even help out with the finer details including advertising, movie licensing and film choices, along with the finite details to make your Drive-In event stand out. Once it's all said and done, your guests will be buzzing , and when your next Drive-In event will be.
Not sure what kind of occasions call for a Drive-In theater? Almost any party or event will be all the more awesome where you've got an outdoor cinema screen. We love these Drive-In movie party ideas:
Car shows
Historic movie buffs
Corporate events
Local community gatherings
Drive-In church service
Drive In graduation ceremony
Shopping Center Drive Ins
Drive in at the mail
Pop Up Drive-In
And so Much more!
Drive-In Theater Equipment & Pop—Up Drive-Ins
A dash of nostalgia and a pinch of the latest audio visual technology – mix that together and you're in for one heck of a nigh. Just because you're recreating a 1950's drive-In doesn't mean you can't enjoy the latest.
You're Drive-In theater rental includes everything required to host the perfect outdoor movie night - outside under the stars…in the cars! We provide all the drive-in movie equipment including:
Sound Systems
FM transmitters
Cables
Generators
Drive-In cinema screen
High definition (HD) Drive—in movie projector
Trained professional event technicians
Our high-quality Drive in movie screens and rental equipment make for an extraordinary experience for all your guests. Families, and car enthusiasts and is sure to be the talk of the town.
Bring the Drive-In era back to your community!
Where's the popcorn?
We can even provide full service popcorn machine rentals and other supplies to ensure your drive in festivities go off without a hitch.
If this all sounds familiar, you may have noticed us as FunFlicks Outdoor Movies. Game Craze Party Rentals is the affiliated with FunFlicks Outdoor Movies. We have been providing outdoor movie events to Ohio for over 8 years and over 3000 outdoor movie events!
Not familiar with FunFlicks Outdoor Movies?
Well, FunFlicks is a full service indoor outdoor movie event provider for individuals and organizations large and small. Towns, cities, parks & recs, schools and pools, neighborhoods and communities, churches, apartments, backyard birthdays, graduation – no matter what you're celebrating, we'll help you host an unforgettable movie experience in your neck of Ohio woods. We cover all of Ohio Akron, Cleveland, Mansfield, Canton, Youngstown, Columbus, Cincinnati, Dayton, and Toledo and every burg, suburb, township and backroad Ohio has to offer.
The FunFlicks Difference
Wondering what sets us apart? Let's just say we grown Nationwide for a reason – We price it right and do it right! Rent an movie screen from America's #1 Outdoor Movie Equipment Rental Company and enjoy some pretty stellar benefits.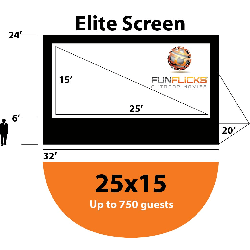 32-ft (25x16 Viewable) Elite Movie Screen
from $1,199.00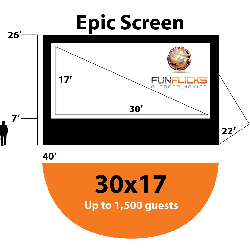 40-ft (30x17 Viewable) Epic Movie Screen
from $1,899.00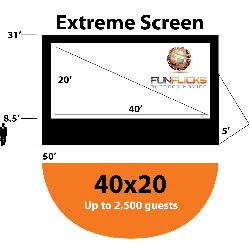 55-ft X-treme Series Movie Screen (40' x 20' Viewable)
from $2,499.00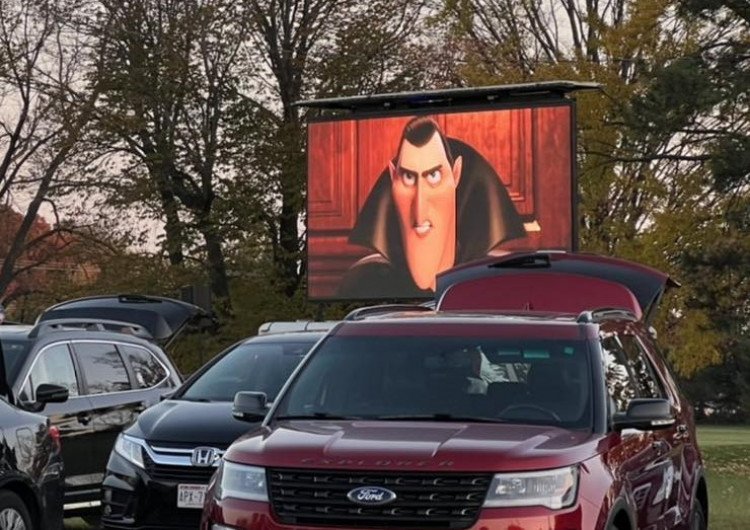 LED Drive-In Movie
from $2,999.00